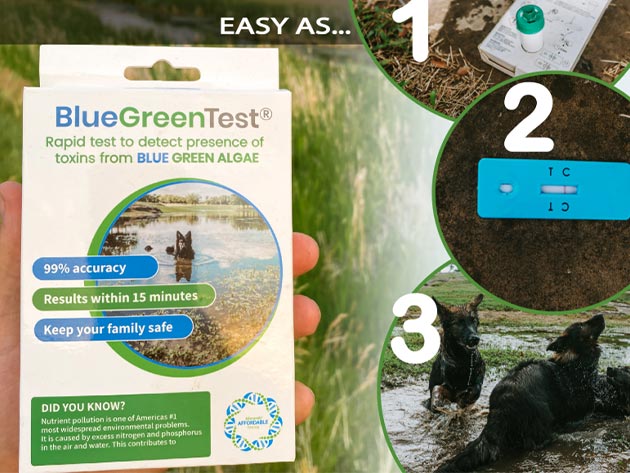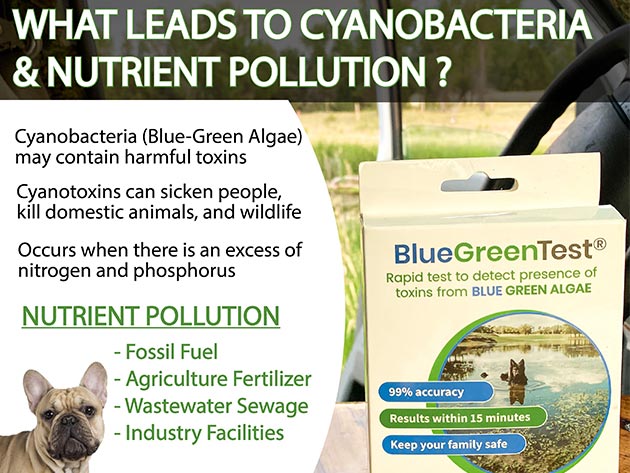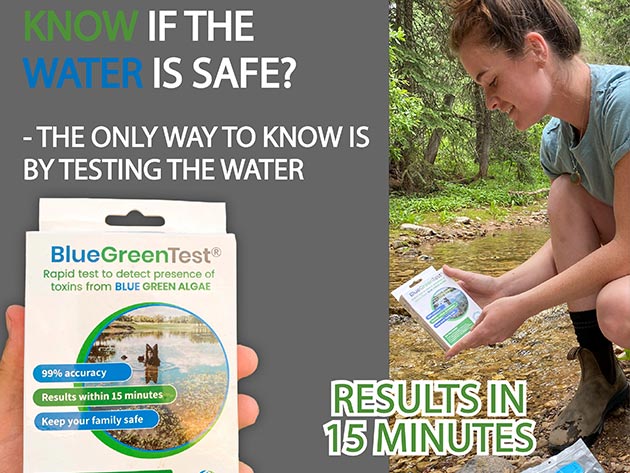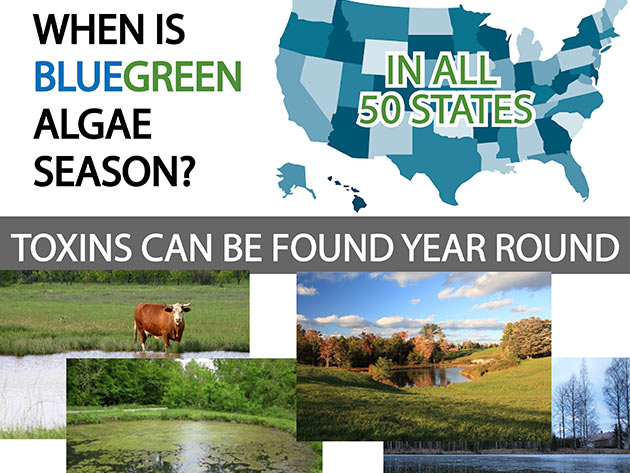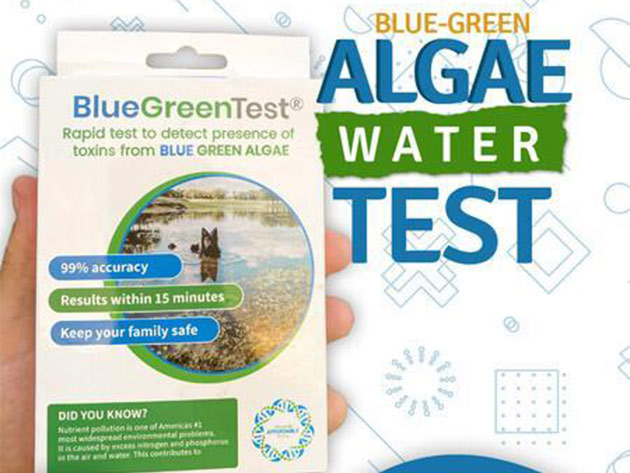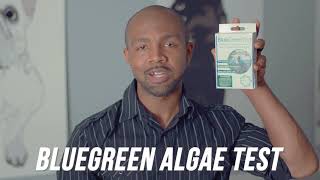 5Strands BlueGreen Algae Test
by 5Strands
Make Sure the Water is Safe. Speed, Accuracy, and Peace of Mind for Your Pets
Description
The BLUEGREEN TEST® is the world's first rapid diagnostic test to detect a broad range of hepatotoxins on-site. It utilizes a single-step, sandwich type, non-competitive immunocomplex assay method, using combinations of antibodies detecting molecular structures present in all common microcystins and nodularin. This combination enables the test to detect eleven commonly occurring hepatotoxins in a single test and can detect levels below 0.1 µg/L. and takes just 15 minutes to process with immediate, sensitive, and indicative results.
4.2/5 stars on Amazon: ★ ★ ★ ★ ★ ★
What is Blue Green Algae?
Group of organisms that are among the oldest on the planet
Can live in freshwater, salt-water, or in mixed "brackish" water
Commonly known as "pond scum"
Comes in many colors like red, orange, green, or brown
Share some characteristics of bacteria so they are being referred to as "cyanobacteria"
What is the Issue?
Nutrient solution caused by excess nitrogen & phosphorus in the air & water has become one of the most widespread environmental problems in America
Too much phosphorus & nitrogen in the air and water causes algae to grow faster than the ecosystem can handle
Significant increases in algae harms the water quality, food resources, habitats, & decrease oxygen supply
Large growths of algae blooms decreases the amount of oxygen in the water leading to fish illness or death
Harmful to wildlife, pets, & humans as they produce harmful toxins & bacterial growth
Possible Health Effects
Becoming sick when swallowing, having skin contact, or breathing airborne water droplets while swimming, boating, waterskiing & other water activities
Symptoms: vomiting, diarrhea, rash, eye irritation, cough, sore throat, & headache
Symptoms generally begin with hours of exposure
Bad Effects to Animals
Pets such as dogs are susceptible to harmful algae because they swallow more water while swimming & doing activities that involve bodies of water
Animals experience symptoms within minutes of exposure to the toxins
Symptoms: vomiting, diarrhea, weakness, difficulty breathing, & seizures
The Cyanobacteria (Blue Green Algae) Testing
Uses a technique based off one of the most recent & breakthrough developments in hepatotoxin detection
Utilizes a single-step, sandwich type, non-competitive immunocomplex assay method
Uses a combination of antibodies present in all common microcystins & nodularins that detect eleven commonly occurring hepatotoxins in a single test
Capable of detecting large groups of low molecular weight (LMW) analytes
Takes just 10 minutes to process with immediate, sensitive & indicative results
Results are directly indicative of the current state of the tested water body, as the test can be carried out in-situ directly at the source
Illustrates positive or negative readings via a fluorometry-based visual guide, and at the same time, indicates the concentration of detected cyanotoxins
How to Use
Collect water sample
Wait for 10 minutes for the result
Let your pets play
NOTE:
In a single test, and is able to detect levels between 1 g/L 100 g/L (with the range expandable from 0.1 g/L 20 g/L if necessary)
DISCLAIMER:
The test will detect the following toxins: MC-LR, dm-MC-LR, MC-RR, dm-MC-RR, MC-LA, MC-LY, MC-LF, MC-YR, MC-WR, MC-LW, Nod-R.
Specs
Specs
Color: white
Dimensions: 5"H x 7"L x 0.5"W
3 oz
Detection rating

1 line: no bluegreen algae toxins detected
2 lines: bluegreen algae toxins detected

Result time: 10 minutes
Accuracy rating: 99%
Number of hepatotoxins detected: 11
Bioresonance technology
Immunocomplex assay method
Revolutionary detection methodology
Single-step in-vitro approach
Includes
Sample Collection Kit
Instructions
Shipping
Ships to Contiguous US
Expected Delivery: Dec 17 - Jan 2
Terms
Returns accepted within 30 days of shipment for orders within the Contiguous US.